Why Choose Happy Floors?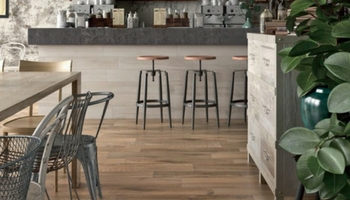 Are you looking to add the style and luxury of European tile to your home setting? Be sure to take a close look at Happy Floors tile. Around 90% of all Happy Floors tiles are designed and manufactured in Italy, while the remaining 10% comes from Spain. Anybody who knows tile knows that Italy and Spain are two of the world's hotbeds, so it's no question that each and every Happy Floors tile offers premium style and performance.
We have many favorite Happy Floors collections, but we especially love the Northwind collection. Why? Tiles in the Northwind collection are available in 18"x36" planks that offer real wood looks. These tile planks feature special Digital Inkjet Tile HD technology, so, at first glance, they are indistinguishable from real wood planks. But, given the porcelain construction, Northwind tiles are strong, stable, and totally water resistant. As a result, Northwind tiles give you the opportunity to add real wood looks to areas such as kitchens, bathrooms, and basements. There are four main colors in the Northwind collection: white, grey, brown, and melange. Learn more about wood look tile.
Happy Floors is not only an industry leader when it comes to tile flooring; it also offers other tile options such as wall tile and mosaic tile. The mosaic tiles, including the 1.25"x4" Cremo tiles, are great for adding shine and color to walls and backsplashes. At the same time, these mosaic tiles are able to withstand external stresses such as heat and moisture.
Be sure to visit Carpet One Gainesville to take a closer look at Happy Floors. We are happy to offer one of the largest tile selections in the Gainesville, FL area!